Made for Fashion pairs leading fashion designers and makeup artists for a candid conversation about creativity, collaboration and catwalks
Cozette McCreery and Sid Bryan started Sibling in 2008, and they have become the go-to label for punk-themed rebellion. Autumn/Winter 2017 is no different – in fact, it has an actual punk in the shape of Judy Blame on styling duties. Blame is anything but a period piece, though – he was the man behind Neneh Cherry's look in the 80s and has worked with Louis Vuitton and Comme des Garçons on handmade accessories. Longtime friends with McCreery and Bryan, this is the first time they have collaborated with him as stylist, in a collection inspired by Princess Di, Lee Scratch Perry and Antoni Gaudi.
For such an eclectic mix, makeup requires a real professional – enter Sharon Dowsett, who has been in the business for more than 25 years, and counts covers for Vogue, Harper's Bazaar, i-D and The Face on her CV. Dowsett and Blame are old friends too, making this "gang of four" a dream team. Here they discuss style, beauty and the meaning of orange lipstick.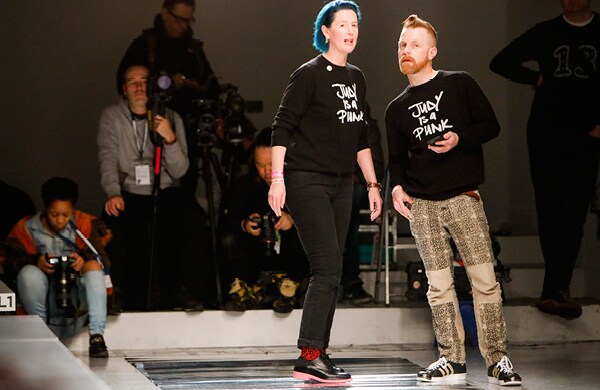 McCreery: Gaudi, Princess Di and Lee Scratch Perry makes sense to us, it might not to a lot of people! The main start of the collection is the tiles in Park Güell in Barcelona.
Bryan: It was the mosaic clash of the colour and texture and broken graphics. It was just immediately inspiring in its simplest terms. From a textile and fashion point of view it's "wow". That's when the interesting things happen: when things collide, when ideas collide, when patterns collide, when mentalities and attitudes collide.
"We love people like Bananarama, The Slits, Grace Jones and Siouxsie Sioux. Quite tough girls with an opinion." – Cozette McCreery, Sibling
McCreery: Judy brought the Lee Scratch Perry element in because he saw it as a sort of soundclash of patterns. I have known Judy since I was about 18 or 19. He knows the brand sometimes, I think, better than we do, he's like a third pair of eyes! He's part of our friend family. In that same way, he only wanted to work with somebody he had a relationship with and it was Sharon.
Blame: I hate to even think how long Sharon and I have worked together… (joking) since Tudor days, definitely pre-war! When I first met her, we did a shoot for i-D – she was terribly nervous because she was working with me. I don't know why. It was all brown and rusty colours. She did a different colour lip on every single girl and it was one of the things that brought this story together. Ever since then I have thought, "Well, she's all right."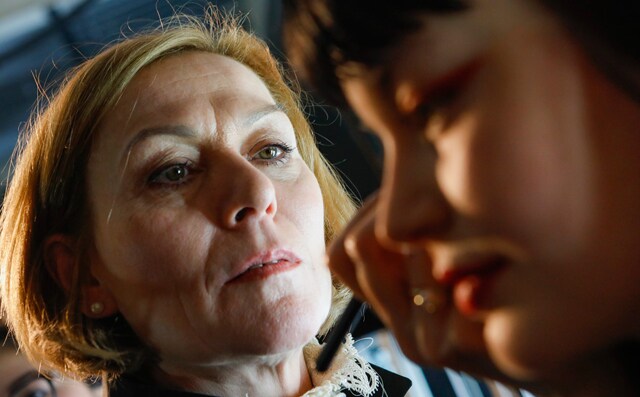 Dowsett: Judy always gives great direction, verbally and visually. He talked me through the collection along with Cozette and Sid, telling me that the look was punky but chic, and showed me an image that we'd worked on for Thierry Mugler in the late 80s to kickstart the creative process.
Blame: Sharon has great volume control – you need that kind of makeup artist on this show, for me, because some of the influences were so diverse – makeup was a good way of drawing it all together. Red and blue are two key colours in the collection – that was my brief to Sharon.
Dowsett: We experimented with various combinations of red and blue, but found that red was a little harsh on the eye. Orange was friendlier and echoed the Gaudi mosaic that had inspired the designers. We decided on a graphic eye liner that meant business, with a slash of white kohl. Some girls wore an orange and red colour combo; others wore marine and dark blue. Boys simply sported navy mascara brushed through brows, with a little concealer and moisturiser.
McCreery: We love people like Bananarama, The Slits, Grace Jones and Siouxsie Sioux. Quite tough girls with an opinion. For guys, it's about Bruce Weber, 90s Versace adverts. The guys have to look good…a bit of a skin gleam going on.
Dowsett: Lips were either matte red or glossy dark blue. Dominic, the senior makeup artist at M·A·C (who has worked on Sibling for several seasons) was careful to mix the right balance of blue, with a little purple thrown in when Judy said it looked a bit green at rehearsal. That's the wonderful thing about M·A·C products – you can customise! I steered clear of orange on lips because I wanted a classic element, and remembered what Helmut Newton once said to me on a Vogue editorial: "Love the orange lips darling... very bad television."